Our Workflow Methodology
Our team at ChromeMedia uses a highly customized, ever-evolving Lean Agile methodology for our workflow.  The goal of Lean Agile is to reduce bottlenecks and project overhead, making development as efficient and results-driven as possible.
Lean is a management philosophy with roots in the Toyota production system.  The philosophy is centered around the main principles of minimizing waste (where waste is an activity or inactivity where no value is produced), and employing just-in-time production (creating only what you need based on the information you know at the time – aka Iterations).  Combining Lean philosophy with the flexible framework of Agile puts you in a much better position to recalibrate and reprioritize when conditions change, without compromising on quality or time.
The core tenants of the Lean Agile approach are:
Eliminate waste
Empower the team
Amplify learning
Build integrity
Deliver as fast as possible
See the whole
Our Lean Agile Process
Using Lean Agile as our guiding principle, our company is able to provide our clients with functional web applications in a considerably shorter timeframe, while also reducing the overall development costs.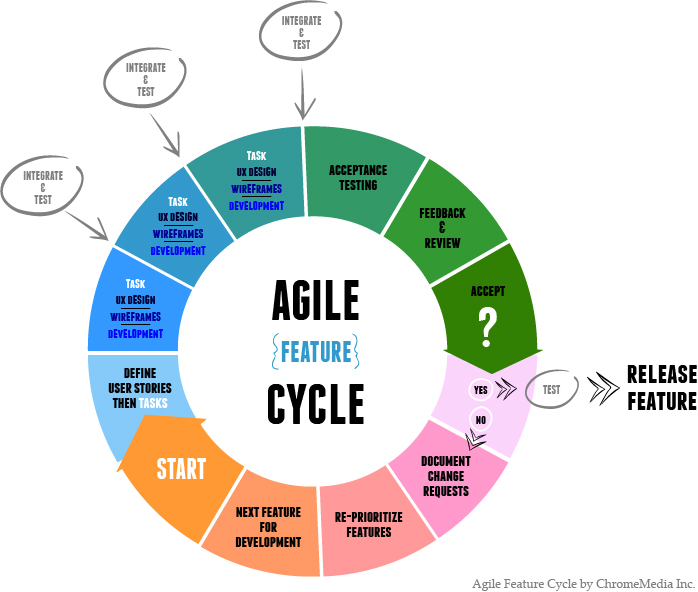 We will work closely with you throughout the development process to ensure that we are implementing your vision correctly. Our weekly status reviews with the designated members of your team will allow us to regularly update you on our progress, and show you finished work quickly. It is our goal to engage you for regular feedback, and incorporate this feedback into the development process. This relationship will keep your project on track and allow us to adjust to the changing requirements that often come up during the course of a development project.
At various points in the project, we have brief conferences with your staff to generate what are called user stories. User stories capture the who, what and why of a requirement in a simple, concise way. These user stories will allow us to flesh out the required features of each section of the application. They also allow us to focus on which features will provide the most business value to you, and prioritize the development of those features.
The Benefits of Lean Agile
This method calls for development to be done in short sprints. This benefits you in several ways:
Your organization will be able to provide your customers with functioning applications at a much
faster pace than using traditional development practices.
The feedback loop between our developers and your company ensures that problems or unforeseen
issues can be addressed quickly.
The most high priority items are identified and completed first, so delivery is not held up by items
that are of less priority.
A focus is kept on delivering features that add the most value to your business, while eliminating
features that provide little value, but add significant costs to the project.
Interested in a technology partner on your next project?  Get in touch!