Waterloo region has been making a name for itself on the world stage as an influential startup community.  So how did we get here, who's taking in the limelight, and what are our secrets to success?
Join me as I take you on a tour of our little corner of the world in this three part series:
Part 1 – Welcome to Waterloo Region
Part 2 – Accelerators, Incubators and Hubs
Part 3 – Success Stories
Once upon a time…
In a pretty familiar story to many North American regions, Waterloo region (comprised of Kitchener, Waterloo and Cambridge) started out as an agricultural community, then grew into an industrial base which helped us see a lot of growth. To give you an idea, all the way back in 1965, Kitchener was Canada's fastest-growing city. At different times throughout the region's industrial hay day, Waterloo was named both the Button Capital and the Rubber Capital. From gristmills, breweries, television plants, tanneries, and shoe factories, we've seen our fair share of success. Even when the manufacturing jobs left the region for offshore alternatives, and economic shifts rose the Canadian dollar, Waterloo went on to flourish.
The continued success in Waterloo region is often attributed to our conservatism and a strong entrepreneurial culture. This industrious combination has fostered a unique ability to adapt to new industries as old ones are phased out. We saw this here when the region's largest employment industry, Manufacturing, started to see a big sector decline between 2001 and 2006 – which prompted Waterloo to pivot into the Technology sector – which continues to be the fastest growing industry in Canada (as many other countries have seen).
In every major region throughout the world, there is a significant amount of effort spent attracting Technology into local economies, as it brings in jobs and money. This region is no different. Waterloo's tech is often mentioned in tandem with Blackberry (formerly Research in Motion), which is headquartered here – the same way that General Motors was linked to Flint, Michigan. Fortunately for our community, Blackberry isn't the only success we've seen.
Welcome to Waterloo Region
With the previous successes of Blackberry, our two Universities and peripheral educational and entrepreneurial groups, Waterloo region started to evolve into a startup community with its own reputation for success.
There is a widely-held belief that for you to launch a successful startup, you need to base your business in California. Waterloo rose to the challenge and made a name for itself as North America's second largest concentration of technology companies outside of California– even being referred to as the 'Silicon Valley of the North.' This designation is a badge some wear proudly, and still some others would like to shy away from. But that's a story for next time!
For startups like BufferBox, Thalmic Labs and Vidyard, their success is proof that California is no longer the only place to operate a successful company once you've had the right head start, and have the support of the right accelerator. These three are, in fact, success stories who graduated from Silicon Valley's famed Y Combinator, a three-month accelerator that partners entrepreneurs with mentors and wealthy investors. Despite their mentors and investors warning against the decision, all three
companies moved back North of the border to make their permanent offices here.
Mike McCauley, one of the founders of Buffer Box was quoted as saying, "The ecosystem in Waterloo is very supportive," whose parcel pickup kiosk company was acquired by Google in November of 2012.
Stephen Lake, from Thalmic Labs, says that talented engineers are cheaper and more loyal in Canada, "It's almost twice as much down in the Valley for the same calibre of talent. The retention rate is tremendously different [in Canada] and there's much more employee loyalty."
So what's the secret?
A fierce sense of self-reliance and innovation is Waterloo's strongest asset. Additionally, we have two Universities, including Canada's premier research university and home to the Agfa Healthcare R&D centre in the University of Waterloo's David Johnston Research & Technology Park. Afga is a historical innovator and in 1898 they created the first X-ray plates. The Belgian firm consolidated all 23 of its R&D centres into a single $170 million investment in Waterloo, which serves as a big hint into Waterloo's secret as a technological innovation centre.
Conrad Business, Entrepreneurship and Technology Centre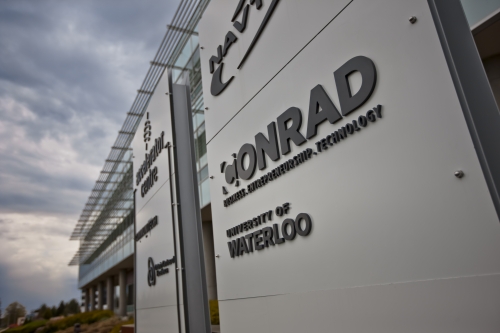 Waterloo is also home to the Conrad Business, Entrepreneurship and Technology Centre. Offering a Master's program in Business Entrepreneurship and Technology, the program aims to produce disruptive visionaries who can spot opportunities and place them into existing organizations. So far, this program invites 50 students a year, half of which are from outside Canada.
Perimeter Institute of Theoretical Physics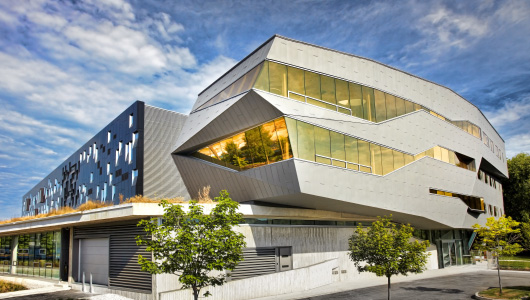 Another of Waterloo's points of pride is the Institute for Quantum Computing, which was the result of a $100 million donation from Research in Motion Ltd. Founder, Mike Lazaridis to bolster Waterloo region's applied learning traditions after the inception of the Perimeter Institute of Theoretical Physics.
The IQC produces a wide array of entrepreneurial opportunities within fields such as cryptography, supercomputing, physics & astronomy, combinatorics & optimization, applied mathematics, electrical & computer engineering, chemistry and computer science.
Keep up-to-date
We've always got a lot going on in Waterloo region, and we're happy to share our successes with you!
Here are just a few of the best places to keep up with all the comings and goings of this bustling region:
TechVibes
Communitech News
The WaterlooTechStartup Daily
Stay Tuned
Part 2 – Accelerators, Incubators and Hubs
Part 3 – Success Stories